Tips for trips

Come end enjoy winter fun
The Krušné Mountains are ideal for winter sport lovers.
There are kilometers of well maintained cross country ski trails that can take you all way up to the highest peak: Klínovec.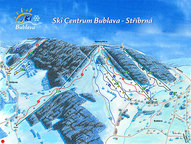 The Bublava skiing resort has something for everyone: Families with smaller children, school skiing groups and demanding skiers. The Bublava skiing resort consists of slops of all difficulty levels, evening skiing, children's ski trail, snowboarding park, ski rental, ski serviceand a skiing school. There are tens of kilometers of well-maintained cross country ski trails on both the Czech and the German side of the border.
 Tip for a summer holiday

Bublava and its surroundings are a perfect place to enjoy MTB bikes, trekking and road cycling and hiking.
In summer people go swimming in local forest lakes and at nearby dams. The nearby town of Schöneck, Germany (9 km) offers an aquapark with toboggans, Jacuzzi, and steam saunas.
Tourists can also set off for attractive trips, taking them mainly to the famous spa towns of Františkovy Lázně, Karlovy Vary or Mariánské Lázně. The Přebuz nature park is a true tourist attraction.
Do not hesitate and visit us. Your satisfaction is guaranteed.